A prayer is just a good thought: put a beautiful image in your mind, something that you love, close your eyes, and hold onto that feeling until it changes you. That's how the old ones used prayer.
- Ethel Morgan,
There's a space and time in our minds, in our bodies, and in our spirit, that connects everything together. When we learn to slow ourselves down through meditation, we can actually speed up our collective destinies.
- Depi Nana (Stone Man)
My Great Grandmother, at 101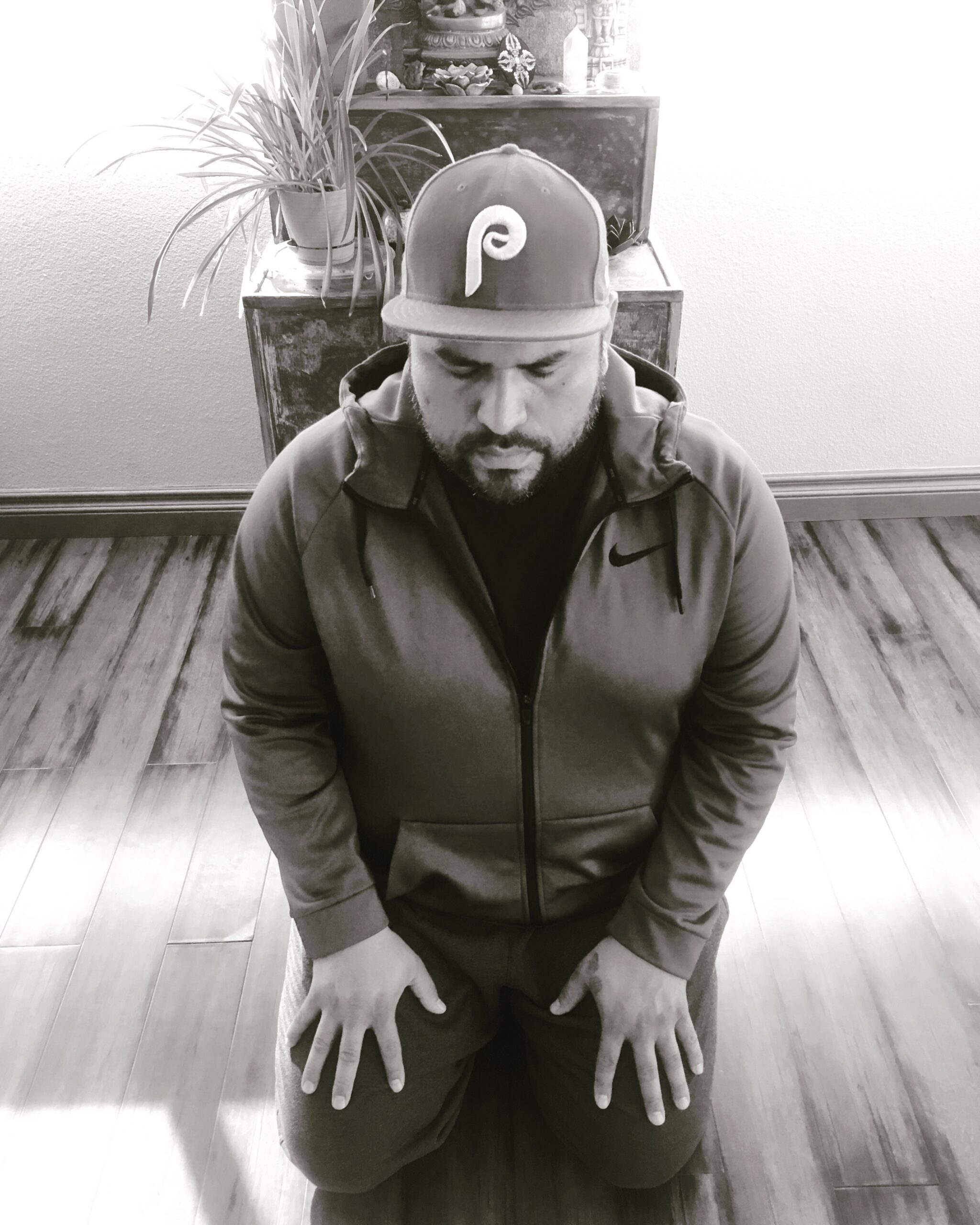 What is Mahkwuhoo (Guided Meditation)?
Mahkwuhoo (a literal Paiute translation "it's already done") is a one-of-a-kind, Great Basin-esque Indigenous philosophy; that uses the inner-voice, to navigate inner light. This is a tribal perspective, of practical meditation—no right-way or wrong-way—simple, but effective. The objective of Mahkwuhoo is to re-connect the People, back to each other, and to the Earth.
After nearly two decades of dreaming, fasting, dancing, and praying; meditation has been the missing ingredient to my own spiritual soup. I created the Mahkwuhoo practice several years ago out of necessity, because I needed a ritual that would help me organize (and prioritize) prayers and my commitments. I tried lots of other meditations (and methods) but nothing that I partook in was ever directly reflective of my own beliefs or culture. After a couple of years, with lots of prayer, dreams, and understanding, I was able to formalize something that had all the components that I wanted; a practice that made me feel grounded to the land, to my Ancestors, and to my purpose. Mahkwuhoo, is an original Tribal Earth-Based philosophy that represents the customary style of praying that I received through my family teachings. To simplify this even further, Mahkwuhoo is meant to generate energy: use what's necessary, give the rest away, and submit to the moment. Mahkwuhoo, is perfect for people who desire a proactive personal ceremony, in casual free flowing environments: without ethereal jargon or rigid protocols.
The Origin of Tribal Meditation
Brian "Bb" Melendez, the creator of mahkwuhoo (guided meditation)
What Makes Mahkwuhoo unlike any other Meditation practice in the World...
- Cultural Awareness
- Diversity & Inclusion
- Hands on Learning
- Land Acknowledgements
- Social Advocacy
- Indigenous Rights
- Human Rights
- Spiritual Self Determination
- Strengthening of Identity
- Tribal Songs and Drumming
- Talking Circles
- Community Networking
- Creation of Sacred Space
- Self Care & Stress Reduction
- Personal Empowerment
- Releasing of Burdens
- Breathing & Visualization
- Connection Back to the Land
- Creating Open-Minds
- Creating Open-Hearts
- Genuine Relationship Building
- Authentic Representation of Great Basin Tribalism and so much more...
Watch this Recent PBS Special About Mahkwuhoo (Guided Meditation)!
10 notable benefits of meditation
Enhances the immune system
Increases empathy and compassion for others
Helps overcome addictions
Improves cardiovascular health
Strengthens Relationships
Meditation Services During COVID-19
we can provide virtual meditation services to your organization, corporation, community, family, or private party. What ever it is, we're down to help out. We have special rates for all of these packages. please contact us directly for more details. We're willing to negotiate and can work with your budget. Contact us today!
Private Parties and Other Events
We are committed to our craft and are excited to work with you. We conduct private meditation parties; we do baby showers, birthday parties, retreats, and all kinds of other events. Right now we are working on a schedule to provide weekly meditation classes for home school children during the pandemic. Our services are versatile and were ready to get to work.
We do our best to help out people who help people. If you're organization can use some support, kind words, or a safe and new space to release tired energies, you're in the right place. Contact us today and lets book a session for your team and their families!
We support businesses in these trying times. We provide virtual guided meditations that can be customized to your industry and specifically for your frontline workers. We want to make sure that everyone is safe and help to reduce stress where we can. If you believe that your staff, board members, and total organization can use additional support we'd love to hear from you.
We love our Tribal Brothers and Sisters and we understand that many of our communities are hurting right now. We work with Tribal Governments to provide remote wellness to their Citizens while everyones being safe in self isolation. We provide closed circuit avenues of meditation that are exclusively for individual Tribes on a reoccurring basis. We would love to provide your Tribal Citizens with healthy outlets, new skills, and community.
Have a Project in Mind? Let's Talk...